Our instructors have years of experience with a wide variety of people with disabilities...
Hearing Impairment
Autism
Down Syndrom
Asperger's
Cognitive Impairment
Learning Disorder
Convergence Disorder
Brittle Diabetes



Fetal Alcohol Syndrome
Developmental Delay
Cerebral Palsy
Multiple Sclerosis
Spina Bifida
Panic Disorder
Apraxia/Dyspraxia

Sensory Integration Disorder
Depression & Anxiety
ADD / ADHD
Speech Delay
Emotional / Behavioral Disorders
Bi-Polar
Amputation / Prosthetic Limbs
---
Carrie Capes, HorsePower Co-Founder, Director and PATH Certified Instructor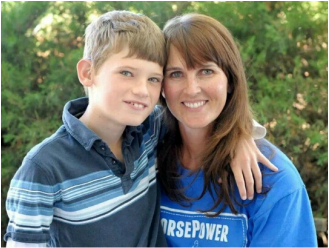 Carrie brings both higher education and life experience to HorsePower Instruction. She has a degree in Therapeutic Recreation from Illinois State University and has 15 years of special needs parenting experience. Carrie grew up
feeding residents,
pushing wheelchairs, calling Bingo numbers, and initiating a pet therapy program and at the DuPage Convalescent Center in Wheaton, IL. Her mother worked as a Recreation Therapist and later, as a Social Worker. Ann
had a 30 year career working with people with disabilities and was passionate about treating people with dignity, improving their lives, opening access to the community and supporting the entire family unit. Although she did not live long enough to see HorsePower's development, Ann's legacy lives on with HorsePower each day.
These childhood experiences made a profound impact on how Carrie saw the world and made career choices. At various times in her life, he has had a career as a Recreation Therapist, was a full time mom for 8yrs, and also was a special education substitute teacher in the Kaneland school district for 5 years. Carrie's strengths are in empowering volunteers, utilizing sign-language and visual & augmentative communication systems with non-verbal riders, encouraging fearful riders, and utilizing creative games and activities in lessons to foster deeper learning and a sense of playfulness in her riders. She owns HP therapy horse, "Tonka the One-Eyed Wonder Horse" and enjoys exploring the trails and having equine adventures at the local forest preserves with her horse-loving friends. She has a passion for opening up the equestrian world to people with disabilities and is further satisfied to be able to do so regardless of the individual's ability to pay. Providing vision and leadership to HorsePower has been her life mission and a dream fulfillment for Carrie.
---
---
Missy Hughes, HorsePower PATH Certified Instructor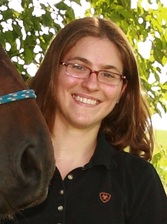 Missy Hughes, HP Instructor
Melissa brings much to HorsePower Therapeutic Riding! She has experience with a wide variety of riders with disabilities and is currently leads HP's Therapeutic Carriage Driving program. Missy has a thirst for knowledge and a true talent for teaching every level of student ability. No matter the rider's ability, Missy demonstrates quiet strength and a unique ability to communicate difficult concepts. Missy is one of a very select few students to be accepted into the prestigious international dressage instructor school founded by France's Phillip Karl. She is currently training three mares in French Classical Dressage as a part of her education in the Karl Program. We are all so proud of her and very pleased to have our riders benefitting from her skills in the field of dressage. Missy's latest challenge has been in purchasing a truck and a trailer and is currently practicing everything from hooking up to backing in preparation to her next trip to Maryland for one of her clinics she attends three times each year. Here is what folks are saying about Missy: "Missy's calm and confident way of teaching is exactly what our daughter needs to feel secure in trying new things in the arena. Missy is not only a skilled instructor, but a good role model as well." - Parents, Tim and Jennifer Brown "I like my instructor, Missy, because I love to play her games. I also have fun with Missy when we groom my horse. Missy is nice and fun. " - Student, Noelle
---
---
Barbara Falls, HorsePower PATH Certified Instructor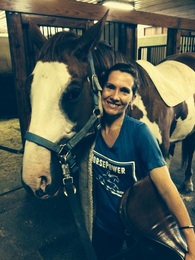 Barbara is a Certified Therapeutic Riding Instructor with PATH International, a member of the American Hippotherapy Association, and has been an active volunteer in local equine assisted therapy programs for the past 25 years. Barb has a degree in English and is a true life-long-learner. Barbara began her riding career at 7 years of age riding hunter/jumpers but enjoys all types of equestrian sports including dressage and western pleasure. She's inspired by the effect that horse and rider have on each other and enjoys being a catalyst in that relationship. Barb's family owned a quarter horse who suffered a career ending injury and it was during Barb's search for a retirement job for "Chip" that it became clear to her that her career path would include Equine Assisted Activities and Therapies. Her introduction to Carrie Capes led to volunteer hours at HorsePower and later student teaching hours in preparation for her certification. Barb is excited to be part of HorsePower, to work with the students and their families, and be part of the powerful bond that connects students and their horse partners. Barb has an excitement for life and a glass-half-full mentality that is contagious. She delights in working alongside her volunteers and equine partners to deliver inspiring lessons.
---
---
Alyssa Peterson, HorsePower PATH Certified Instructor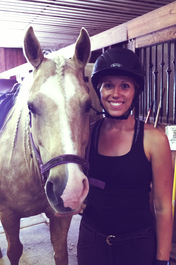 Alyssa is a Certified Therapeutic Riding Instructor with PATH International. She
began riding at 5 years old with an instructor who also taught therapeutic riding lessons along with non-therapeutic lessons in Sugar Grove, IL. After three years of lessons there, Alyssa transferred to an Eventing farm in St. Charles, IL. She rode there until college (10 years), leasing and showing several horses at the Kane County Fair each summer, as well as mini-events and even Recognized Eventing shows in the Midwest. Alyssa's favorite activities with horses growing up were cross-country jumping and trail rides at Leroy Oaks Forest Preserve with friends. While in college, Alyssa has a degree in Biology, she rode on Ball State University's Hunter/Jumper team. She was the Vice President of the team as a sophomore before becoming the President her junior and senior years. Alyssa also works as a horse leader for Strides In Motion during PT Hippotherapy sessions, and is a non-therapeutic lesson instructor at Bull Run Equestrian Center in Elburn. Alyssa aspires to continue her education and has interests in Occupational Therapy and Equine Assisted Mental Health. She has been commended for her excellent timing and intuition with riders on the Autistic Spectrum. She also has had great success with riders with emotional and behavioral challenges. Alyssa has recently trained as a therapeutic carriage driving instructor and has a special bond with our miniature horse, Allie Cat.
---