Tonka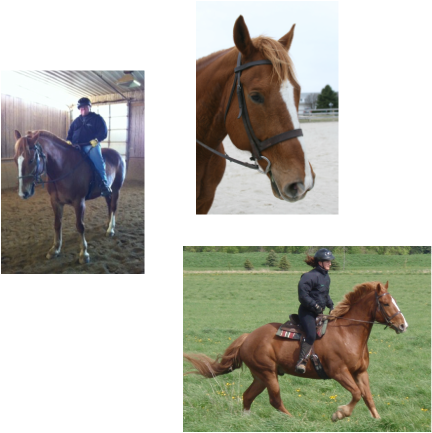 Tonka is a gentle giant. This 17.1 hand Belgian-Cross gelding most enjoys hopping in the trailer to go explore trails with his owner, HorsePower instructor, Carrie. He is exceedingly gentle and patient with inexperienced riders and is curious about all the toys we use in therapeutic lessons. He has even been known to blow bubbles. His best friend on the farm is "Groovy". Tonka is a trustworthy jumper and easily sails over fences of all sizes. He is especially loyal to his owner's young son, Max, and is known to follow him all over the arena. Tonka developed a cataract and has lost all vision in the right eye. Just like our students, he does not let disability challenges get in the way of enjoying life. He remains very dependable and trustworthy in and out of the arena.
---
Ronan

Ronan is shown here with Marisa, Max, Kelly, and David. He is owned by Terese Klinger. Ronan is a thoroughbred and had a successful career as a racehorse under the name "Polish Posh"! If he had taken first in a particular race, instead of third, he would have earned the right to run at the Kentucky Derby! His students love his sweet and social nature. He is athletic, agile and an expert jumper. This boy loves toys, games, music and kids....and gentle pats on the neck. There is nothing Ronan doesn't want to explore further to satisfy his intense curiosity. Everyone falls in love with this beautiful boy.
---
Allie Cat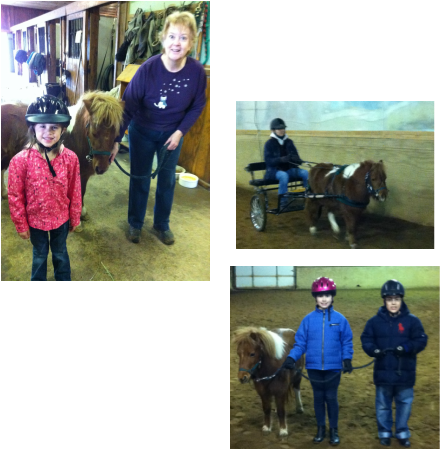 Allie is the newest HorsePower therapy horse! She is very experienced with pulling a cart and our volunteers are currently training with instructor, Missy Hughes so that HP can offer carraige driving to students in the Spring of 2013! Allie Cat has already begun working with students and specializes in helping those with anxiety to feel safe while they gain skills with horses. Allie loves to hang out with paddock mate, "Ava" has been known to stand underneath her for shade from the sun and protection from the wind. Smart lil horse! She is owned by HP Volunteer, Lynne Noren, who is very proud her horse is being used in therapeutic lessons. Allie is pictured here with Grace, Lynne (her owner), Missy, Abby and Skylar.
---
Molly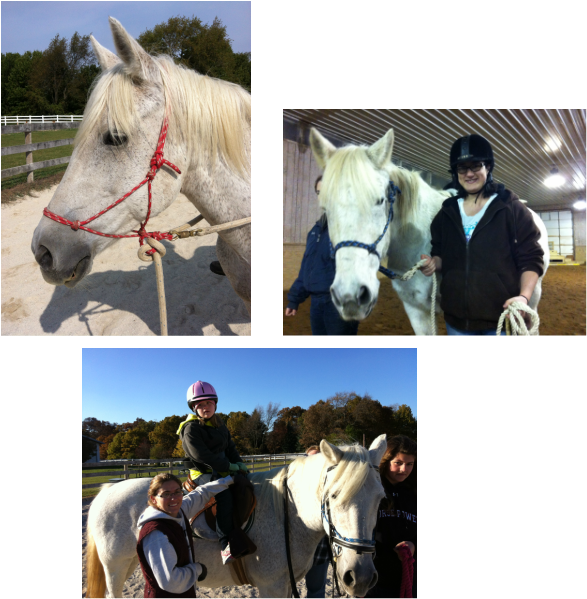 Molly is an experienced ex-dresssage show horse, owned by Sherri Deutschle. Her trot is so nice and slow and gentle that even kids with very low muscle tone can trot on her. Her calm ways also help those with anxiety feel safe in her presence. Molly loves children and seems to really enjoy our arena games and all the TLC our students and volunteers shower over her. We all admire her intelligence, confidence and trustworthy nature. She is pictured here with Donna, Elly, Missy and Lauren.
---
Ben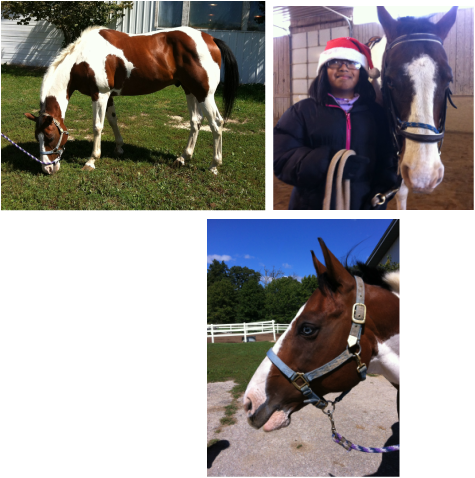 "Beautiful Ben" is the only "painted" therapy horse at HorsePower. He is so lovely to look at, but on the inside he is even more wonderful. He is owned by Robin Ponte and she just adores him. Ben is extremely patient with riders that are new to being independent of a leader. He both neck-reins and direct reins, which makes him very versitile. Just one squeeze, and he is off at the most flowing trot you ever rode and will keep it up forever and ever without breaking stride. He loves to move and to give his rider a fun experience. Ben is rock-solid with games, toys and noisiness! His natural curiousity makes him a perfect therapy horse! He is shown here with Maggie, one of his weekly "favorites"! Students love Ben's "walleye" which means he has one brown and one blue eye.
---
Mac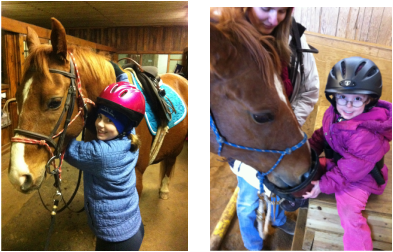 A sweeter quarter-horse has never lived! Carrie feels he is the best therapy horse she has ever worked with. Mac is a mid-sized, chestnut, 8 1/2 year old. One of our favorite things about Mac is that he is a very versatile therapeutic mount! He jumps, and is great for both dependent and more advanced riders. His calm manner lends confidence to small or nervous riders. Mac is owned by Lauri Cavin and her daughters, Zerah Pierce and Cyrena Pierce. This gentle gelding has not met a therapy toy that causes any concern at all. Mac is pictured here with Abby, Petra and Evelyn.
---
Ruby
This lovely mare is a very seasoned trail horse. Her owner is Mike Cortino and he trailers her out with Carrie and Tonka about once a week when the weather is nice. Ruby is an American Paint and has four pretty white stockings and a large "splotch" on her neck. She also has cool white streaks in her mane. Ruby has lots of energy for riders who "like to go", but she knows how to keep it slow and steady for her riders that may need a more gentle ride. She is so dependable, we have used her as the first horse our 4 and 5 year olds take "solo" without leaders or sidewalkers. She is also very dependable out in the field.
---